Double Down - Sea Salt & Garlic - 2 of each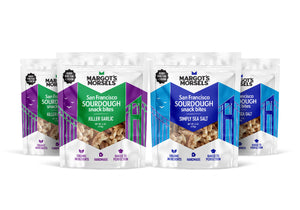 Sea Salt & Garlic, two phenomenal flavors.  Can't decide between the two?  Go crazy and get both!  You'll get 4 total bags - 2 bags of Killer Garlic and 2 bags of Primo Parmesan.

Making a Caesar Salad and don't have Parmesan cheese to sprinkle on top?  Use your Parmesan morsels.  Serving fresh Gazpacho?  Throw on some garlic morsels.  Having a cocktail?  Mix the two together or dip them in your favorite hummus.  There are endless ways to use these tasty beauties! These are the best garlic and parmesan sourdough snacks you can buy!