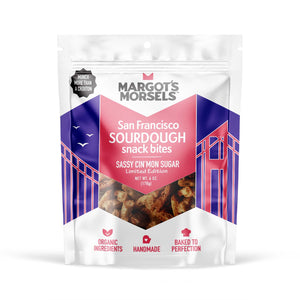 We heard you! Please welcome our new Special Edition flavor for those with a sweet tooth: Sassy Cin'mon Sugar.  Reminiscent of cinnamon toast that so many of us ate as kids, these tasty beauties are coated in sweet yumminess that can be consumed in countless ways; out of the bag with your morning coffee, sprinkled on yogurt, crumbled on ice cream or on top of a baked apple just to name a few.  It's a sweet new way to Get Your Crunch On!

Buy Best Cinnamon Toast & Sugar Snack Bites, with Sourdough Bread. Bite size. Superb sourdough sweet snack. Ready to eat, enjoy and smile. 
Sweet sourdough snacks are exploding in popularity. MM's cinnamon toast sourdough bread snack bites bring together the crunch of sourdough with the deliciously paired tastes of cinnamon and sugar. Buy our cinnamon toast snacks, with sugar on homemade sourdough. Then sit back and enjoy while reading, watching TV, just lounging on the couch, porch or veranda, or part of your Indian summer party spread. These are unbelievably good.